WITH BOURGEOIS CHEVROLET,
GET A 300$ REBATE
ON AN EVDUTY CHARGING STATION! 

Conditions:
1) Applicable when you purchase a new or previously owned plug-in vehicle at Bourgeois Chevrolet.
2) Applicable on the purchase, at Bourgeois Chevrolet, of the EVDUTY #05 charging station only. This model sells for $739 plus taxes (EVDUTY 208-240V, 30 amps, 25 foot cable, with welding plug)*.
3) Bourgeois Chevrolet will automatically apply a 300$ + taxes rebate on the purchase of this charging station* (in addition to discounts ALREADY negotiated on the purchase of the vehicle). You save 344.92$ including taxes.
You can also claim the Quebec government rebate for the charging station. BOURGEOIS CHEVROLET can help you apply. In this program, you are entitled to a 350$ rebate on the cost of the charging station. Note: In addition, you are also entitled to a 250$ rebate on installation costs (must be done by a qualified electrician).
*ONLY the #05 EVDUTY model (208-240V, 30 amps, 25 foot cable, with welding plug), purchased and picked up at Bourgeois Chevrolet, is eligible for this discount.
THANKS TO BOURGEOIS CHEVROLET FOR OFFERING THIS INCREDIBLE REBATE!
Summary of the net cost of your EVDUTY charging station when you apply this rebate and the Quebec government incentive :
 

sp 

Amount
 

sp   

NOTES
EVDUTY #5 selling price
849,67 $
Taxes included
BOURGEOIS CHEVROLET rebate

-344,92 $ 

(300$ + taxes)
Quebec government rebate

-350,00 $

Net cost for your EVDUTY #5
154,75 $
 Taxes included!
---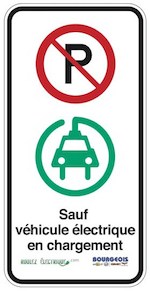 THERE'S MORE!
In addition, BOURGEOIS CHEVROLET will offer you a «EV reserved parking sign» for FREE (a 46$ value).
A great way to SHOW your EV pride !
Don't forget to share your charging station on PLUGSHARE: you may someday help a fellow EV owner in need of a few electrons! The «Reserved parking» sign is reflective at night so it will help identify you as EV friendly, and let EV owners know that they have arrived at your charging station!
---
EVDUTY CHARGING STATION – 208-240V, 30 amps
INDOOR/OUTDOOR – FLEXIBLE IN EXTREEM COLD!
(Model #5 with a 25 foot cable and a NEMA 6-50 welding plug)
IMPORTANT: must be picked up at BOURGEOIS CHEVROLET in Rawdon for this rebate.
SELLING PRICE, INCLUDING TAXES: $ 849.67
NOTE: Click on the button below ONLY IF YOU PLAN TO PICK-UP YOUR CHARGING STATION AT BOURGEOIS CHEVROLET IN RAWDON (QC).